Tamu Samaj UK supports drinking water project in Ghermu V.D.C Lamjung, Nepal.
Article By Sanjay Gurung London: 
We as an organisation have been supporting various rebuilding projects that are still ongoing in Nepal since the earthquake disaster. One of the projects that Tamu Samaj UK has provided financial help is the drinking water project in Lamjung, Nepal.
 Ghermu VDC ward no 2 Upper Chiple village is located at the northern part of Lamjung Distirct, Nepal. The Upper Chiple village was heavily damaged by natural disaster last year and has suffered further issues due to heavy monsoon this year. Because of these unfortunate circumstances, the water supply systems were completely cut off and the residents of the village desperately need another access to water.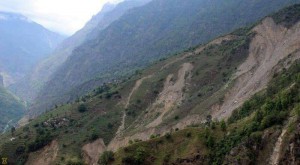 Tamu Samaj UK's life member Mr. Suba Ghale made TSUK aware of this worrying situation facing the people of Upper Chiple village. Soon after the case was brought to the attention of TSUK, donations were collected from our members under the leadership of Chitra Gurung (Founder Chairman), Arjun Kumar Gurung (President) and Gyan Gurung (General Secretary).
 In total, GBP 1370 was raised and sent to Nepal to aid the drinking water project to bring water access to the village. The collected donation money has  handed over to the village representative  Mr.Karna Bahadur Gurung and Mani Prasad Gurung  by president of  Tamu Samaj UK  Arjun kumar Gurung  on 21st October 2016.
 On behalf of residents of Ghermu VDC Upper Chiple village and Tamu Samaj UK, we would like to thank every single member who donated towards this project.